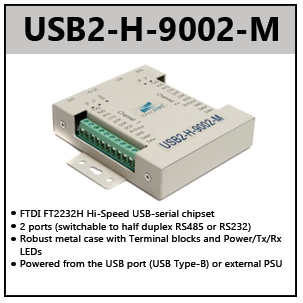 USB to RS232/RS485 ADAPTERS (HIGH SPEED)
Description
Our Hi-Speed USB to RS232/RS485 adapters are an easy to use and flexible option for connecting RS232 and RS485 devices to a USB port on your computer. They use Hi-Speed USB for reduced latency and higher baud rates on the serial side.

The USB2-H-9002-M provides has two serial ports, each of which can be set individually as RS232 or half-duplex RS485 using DIP switches.
The RS232/RS485 signals are connected via convenient terminal block connections, in a robust metal enclosure with Tx/Rx and power LEDs. The units can be powered from the USB port or via an external power adapter.
Based on the renowned FTDI FT2232H Hi-Speed USB-Serial chipset and drivers
Microsoft Windows® WHQL-certified, macOS, Linux device drivers
Each port can appear as a Virtual Com Port allowing easy use with existing application programs
Ports can also be accessed using the FTDI D2xx DLL functions
Each port has separate settings (such as RS232/RS485 mode, and parameters such as baud rate and flow control)
Signals

RS485 mode: Data+, Data-, GND (half-duplex)
RS232 mode: TxD, RxD, RTS, CTS, DTR, DSR, DCD, RI, GN

RI pin can be configured to provide +5VDC output at 250mA
Baud rates

RS485 mode: Up to 8MBaud
RS232 mode: Up to 1MBaud

Flow Control

RS485 mode: X-ON/X-OFF, None
RS232 mode: RTS/CTS, DTR/DSR, X-ON/X-Off, None

RS485 features

Echo and non-Echo mode
Termination ON and Termination OFF mode

LEDs indicate RxD, TxD and power for monitoring port status
Operating temperature of -40°C to +85°C
Selectable +5VDC Power source from USB port or external power adapter
USB type-B connector (USB A - B cable supplied)
Feel free to browse through the corresponding datasheet for more information.
Document
Part Number
Document Type
Version
File

USB2-H-9002-M 

Datasheet

1.2
Download

USB2-H-9004-M 

Datasheet

1.2
Download

USB2-H-9004-M

Quick Start Guide 

1.1
Download

All Products

Drivers Installation Guide 

1.0
Download
Downloads
Order Information
SKU

Ports
USB2-H-9004-M
4