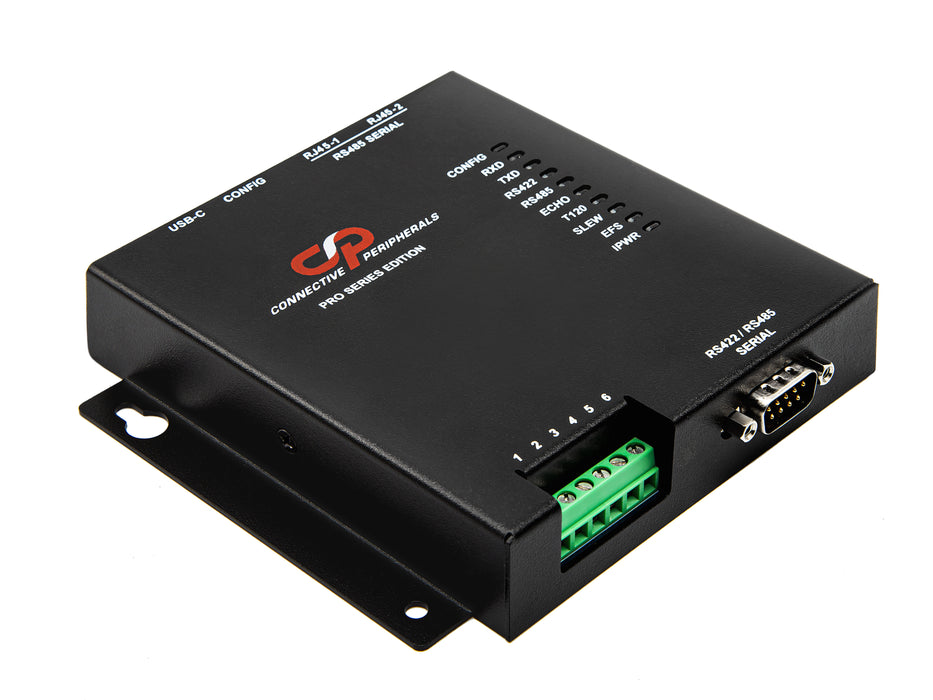 USB TO RS422/RS485 ADAPTERS PRO and ISO PRO Series (HIGH SPEED)
SKU
USBC-H-422/485-M-ISO PRO
Description

The USBC-H-422/485-M PRO and -ISO PRO provide a simple method of adapting legacy serial devices with RS422 or RS485 interfaces to modern USB ports. This is accomplished by incorporating the industry standard FTDI FT232H USB-Serial bridge chip which is USB 2.0 Hi-Speed (480Mbits/Second) and Full Speed (12Mbits/Second) compatible.
The PRO series edition is extremely flexible and allows the user to configure the serial interface mode selection and the operating settings entirely via a software utility tool instead of using DIP switches and jumpers.
Besides the RS422 or RS485 mode (mutually exclusive) configurable selection, there are total of 4 configurable selections based on the communication standard which are (i) Termination (120 Ω); (ii) Slew Rate (for enhanced distance and EMI emissions); (iii) Echo (only available for RS485 interface mode) and (iv) Extra-Fail-Safe mode (EFS, by enabling the bias resistors). All of these settings as well as data transmission traffic are visually confirmed by LED indication. It is possible to configure the serial port for data communication up to 3M baud rate with Slew Rate set to OFF.
It is recommended to utilise USBC-H-422/485-M-ISO PRO for applications where the devices need to be placed in a different building or in the same building but using a different power supply system. This is to protect the devices from the large lightning spikes & electric shock as well as to suppress any harmful electric noise.
 Adds a high-speed RS422/485 serial port by connecting to USB
 Reversible USB type C connector ensures an excellent user experience.
 Easy plug & installation for RS422/RS485 device connection
 Works   with USB 1.1, 2.0 & 3.0 Host and Hub ports
 Industry Standard FTDI chip set & device drivers for maximum compatibility
 Microsoft Windows® WHQL-certified, macOS, Linux and Windows CE   device   drivers
 Installs as a standard Windows COM port
 COM port number can be changed to any available COM port number, to support HyperTerminal, or any other serial communications software application running in Windows
RS-485 data signals: A (Data+), B (Data-), GND • RS-422 data signals: TXD-, TXD+, RXD+, RXD-, GND, RTS#-, RTS#+, CTS#+, CTS#- • Powered by USB port. No external power adapter required.
Pin 5 of terminal block connector can provide +5VDC output at 250mA
Serial port speed up to 3Mbps
Serial Communication Parameters
o Data bits: 7, 8         
o Parity: None, Even, Odd, Mark, Space                       
o Stop bits: 1, 2
Feel free to browse through the corresponding datasheet for more information.
Document
| | | | |
| --- | --- | --- | --- |
| Part Number  | Document Type | Version | File |
| USBC-H-422/485-M PRO                                        USBC-H-422/485-M-ISO PRO | Datasheet | 1.1 | Download |
Downloads
| | |
| --- | --- |
| Release Package of Configuration Utility | |
Order Information
| | |
| --- | --- |
| SKU | Isolation  |
| USBC-H-422/485-M PRO | 3kV |
| USBC-H-422/485-M-ISO PRO | None |