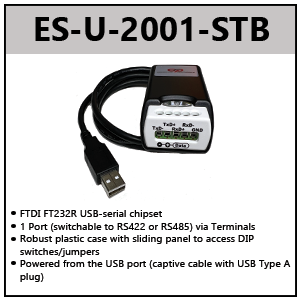 USB to RS422/RS485 adapters (FULL SPEED)
Description
ES-U-2001-S <EOL – Limited Stock Available>
Our USB to RS422/RS485 adapters are an easy way to connect RS422 or RS485 devices to a USB port your computer.
Each port can be set as RS422 or RS485 allowing devices using either of these protocols to be connected. Each port has options such as termination and biasing and indication LEDs for Tx and Rx for easy diagnostics.
With a variety of port numbers and enclosure styles and easy to install drivers for a range of operating systems, these adapters are ideal for adding one or more RS422/RS485 ports to your computer.
Based on the renowned FTDI USB-Serial chipsets and drivers
Microsoft Windows® WHQL-certified, macOS and Linux drivers
Each RS422/RS485 port can appear as a Virtual Com Port allowing easy use with existing application programs
Multi-port units create a separate COM port for each port with separate settings (such as baud rate and flow control) per port
Ports can also be accessed using the FTDI D2xx DLL functions
Signals (note that modes and signals may vary between models)

RS422: TxD+, TxD-, RxD+, RxD-, GND, RTS+, RTS-, CTS+, CTS-
RS485 4-wire: TxD+, TxD-, RxD+, RxD-, GND
RS485 2-wire: Data+, Data-, GND

RS422/RS485 signals via DB-9 and/or Terminal Block (depending on model)
Automatic Hardware (RTS / CTS) flow control on RS422 models (where signals are available on connector)
Software (X-on/X-off) flow control
Transmit and Receive LED indicators help to confirm operation and assist in troubleshooting
Available in 1, 2, 4, 8 and 16-port versions
USB powered or from external/Internal PSU (depending on model)
Variety of robust plastic and metal enclosures

Feel free to browse through the corresponding datasheet for more information.
Document
Part Number
Document Type
Version
File

ES-U-2001B

ES-U-2001B Manual
1.3
Download

ES-U-2001-S

Installation Guide
1.1
Download

ES-U-2001-STB

Installation Guide
1.1
Download

ES-U-2001

ES-U-2001 Product Change Notification
Download
ES-U-2008-M 
ES-U-2016-RM (EOL)
ES-U-2002-M 
Manual
2.1
Download

All Products 

Drivers Installation Guide
1.0
Download
USB-COMi-TB Products Manual Download
USB Bus
Compliance
USB 1.0/1.1 compliant, USB 2.0 Compatible 
Speed
12 Mbps, full-speed USB
FIFO                   
128 byte transmit FIFO 384 receive FIFO
Serial Interface
Port Type 
RS-422/RS-485
Number of Ports
1
Connectors
5-pin terminal block
Serial Line Protection
ESD Protection
10KV
Seial Port Speed
Baudrate
300 bp to 921.6k bps
Serial Communication Parameters
Data Bits 
5,6,7,8
Stop Bits
1,1.5, 2
Parity
None, Even, Odd, Space, Mark
Flow Control
RTS/CTS, XON/XOFF
Serial Signals
RS-422

TxD-(A), TxD+(B), RxD+(B), RxD-(A), GND

RS-485-4 wire

TxD-(A), TxD+(B), RxD+(B), RxD-(A), GND

RS-485-2 wire

Data-(A), Data+(B), GND
Driver Support
OS                 

Windows 7, Vista, 2003, XP (WHQL certified) and 2000




Linux Kernel 2.4 and up built-in support
Power Supply
Input

Bus-powered

No external power adapter required
Mechanical 
Chassis
Plastic, ABS 
Environmental

Operating Temperature

0 to 55 °C (32 to 131 °F)

Operating Humidity

5 to 95% RH

Storage Temperature

-20 to 75 °C (-4 to 167 °F)

Safety Approvals

EN55022 Class B, EN55024, EN61000-3-2, EN61000-3




IEC 61000-4-2, IEC 61000-4-3, IEC 61000-4-4, IEC 61000-4-5,

 


IEC 61000-4-6, IEC 61000-4-8, IEC 61000-4-11.

 


CISPR PUB. 22 and FCC Part 15 Class B.
Downloads
Order Information
SKU
Ports
Housing
Connector
ES-U-2001B
1
ABS
USB-B 

ES-U-2008-M

Din Rail Bracket (DR-201) the rank mount clip is available for sales.
if required, please contact us at sales@connectiveperipherals.com

8
Metal
USB-B 
ES-U-2016-RM (EOL)
16

Metal

USB-B 
ES-U-2001-S
1
ABS
USB-A
ES-U-2001-STB
1
ABS
USB-A w/ Terminal Block

ES-U-2002-M

Din Rail Bracket (DR-201) the rank mount clip is available for sales.
if required, please contact us at sales@connectiveperipherals.com

2
Metal
USB-B