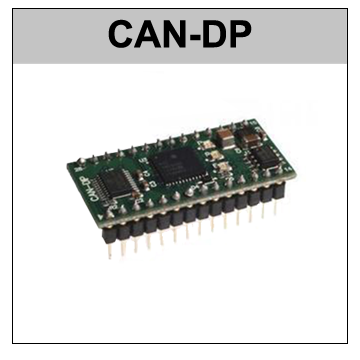 Description
The CAN-DP is a Serial to CANbus module which operates at up to 1Mbps on both Serial and CANbus interfaces. The integrated electronics include a microcontroller with an ECAN controller and a CANBus transceiver. Communications are accomplished with ASCII commands to the CAN controller. 
The command set is identical to S1-A-7001, allowing current designs using that unit to be migrated onto a board-level solution without changing the software. The CAN-DP requires a power supply with an input voltage range of +6VDC to +15VDC
The module has a DIP (Dual In-line Package) format, allowing it to be used in a standard 28-pin 0.6" IC socket as part of an OEM design as well as in prototyping boards for initial development.
The CAN-DP can be interfaced to either RS232 or Logic levels on it's UART interface. There are two separate sets of serial interface pins on the DIP headers for this purpose.
 Features:
Adds one CANbus port to a computer or embedded system by connecting to a serial port (either RS232 or 5V logic level)
Can be used with any system which supports RS232 COM ports or logic level UART ports on microcontroller systems
Wide power supply input voltage range of +6VDC to +15VDC
CANbus speed up to 1Mbps
CAN lines, LED outputs and Serial connections available on DIP headers
LEDs indicate Initialization and CANbus status for monitoring port status & easy diagnostics
Operating temperature of -40°C to +85°C
Document
| | | | |
| --- | --- | --- | --- |
| Part Number | Document Type | Version | File |
| CAN-DP Serial to CAN bus DIP Module | Datasheet | 1.1 | Download |
| CAN-DP | Quick Start Guide  | 1.1 | Download |
| CAN Plus Custom CAN Data Rates | Application Note   | 1.1 | Download |
| CAN Plus Message Filtering | Application Note  | 1.1 | Download |
| USB-to-CAN and RS232-to-CAN | Technical Note | 1.1 | Download |
Downloads
| | | |
| --- | --- | --- |
| Software Type | Version | File |
| Firmware | 2.2 | Download |
| Firmware Load Utility - Bootloader | 1.2 | Download |
Order Information