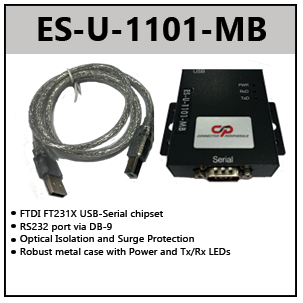 USB to RS232 adapters w/Optical Isolation (FULL SPEED)
Description
The ES-U-1101-MB Optically Isolated USB-RS232 Adapter makes it easy to add an RS232 port to your computer. The unit connects to a USB port for quick and simple installation and is powered by the USB port with no external power supply needed.
The isolation circuit provides an optical barrier between your computer and the RS232 device connected to the unit, protecting the computer from harmful spikes and surges. The unit also features built-in surge protectors to further protect against spikes, surges and electrostatic discharge which may occur on the RS232 side.
The unit features a robust metal enclosure with mounting ears. An optional DIN rail bracket also allows mounting to DIN rails.
The unit also has LEDs for Power, Transmit Data and Receive Data which indicate the status of the unit and provide easy diagnostics.
With simple installation and a range of protection features, the ES-U-1101-MB provides an ideal solution for adding a reliable & fast RS-232 port for applications where noise and spikes may occur. 
Features:
Based on the renowned FTDI FT231X USB-Serial chipset and drivers
Microsoft Windows® WHQL-certified, macOS, Linux and Windows CE device drivers
2000V DC Optical Isolation between the USB and RS232 interfaces
25kV Surge Protection on the RS232 port
RS232 signals: TxD, RxD, RTS, CTS, DSR, DTR, DCD, RI, GND
Automatic Hardware (RTS / CTS) and software (X-on/X-off) flow control
RS232 port can appear as a Virtual Com Port allowing easy use with existing application programs
RS232 port can alternatively be accessed using the FTDI D2xx DLL functions
RS232 via DB-9 Male connector
Compact and robust metal enclosure
Power LED and Transmit and Receive LED indicators help to confirm operation and assist in troubleshooting
Powered from the USB port (no external power needed)
USB 2.0 Full-Speed (compatible with all USB ports including USB3)
-40°C to +85°C extended operating temperature range
CE / FCC approved
Document
Part Number 
Document Type
Version
File
USB to Serial Converters
Manual
2.1

Download
ES-U-1101-M
Product Change Notification (PCN)
Download
All Products
Drivers Installation Guide
1.0
Download
Downloads
Order Information
SKU
Ports
Housing

Connector

ES-U-1101-MB

Updated version from ES-U-1101-M [USB-COM-Si-M] to support higher data throughput)

Din Rail Bracket (DR-201) the rank mount clip is available for sales. If required, please contact us at sales@connectiveperipherals.com

1
Metal
USB-B  w/Isolation