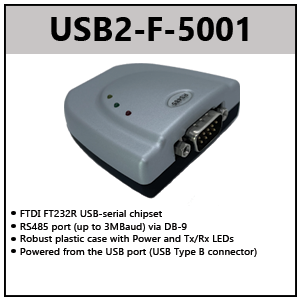 USB to RS485 adapters (FULL SPEED)
Description
Our USB2-F-5001 Full-Speed USB to RS485 adapters make it quick and simple to connect RS485 devices to a USB port on your computer. They use the FT232R chipset from FTDI along with an RS485 line driver/receiver. They feature automatic direction control for the half-duplex RS485 lines.
The units come in a compact, attractive, and hard-wearing plastic enclosure with a variety of mounting options, and Power/Transmit/Receive indication LEDs. They use a standard USB type-B connector (USB type A to USB type B cable supplied).
RS485 is popular for a wide range of control, monitoring, industrial and entertainment applications. However, generally computers don't have built-in RS485 ports or even slots on the back to add RS485 expansion cards. Connecting via USB offers compatibility across a huge range of computers as well as easier setup and portability.
Connecting via USB offers compatibility across a huge range of computers as well as easier setup.

 Features:
Based on the renowned FTDI FT232R USB-Serial chipset and drivers
Compact and robust plastic enclosure
Microsoft Windows® WHQL-certified, macOS, Linux and Windows CE device drivers
RS485 port can appear as a Virtual Com Port allowing easy use with existing application programs
RS485 port can also be accessed using the FTDI D2xx DLL functions
Automatic RS485 Direction control (Transmit Enable) implemented in hardware for faster performance and avoiding the next for the software to control the direction
RS485 via DB-9 Male connector at up to 3MBaud
RS485 signals: Data+, Data-, GND
Pin 9 of the D-sub connector can provide +5V power output (250mA max).  
Power, Transmit and Receive LED indicators help to confirm operation and assist in troubleshooting
USB 2.0 Full-Speed (compatible with all USB ports including USB3)
Powered from the USB port (USB Type B connector)
Supplied with a USB A-B cable for connection to the computer
Desktop or Wall-Mount (via supplied brackets)
-40°C to +85°C extended operating temperature range
CE / FCC approved
Document
Part Number
Document Type
Version
File
USB2-F-5001 Full-Speed USB to 1-Port RS485 Adapter
Datasheet
1.2
Download
USB2-F-5001
Quick Start Guide
1.2
Download
All Products
Drivers Installation Guide
1.0
Download
Downloads
Order Information
| | | | |
| --- | --- | --- | --- |
| SKU | Ports | Housing | Connector |
| USB2-F-5001 | 1 | ABS | USB-B  |