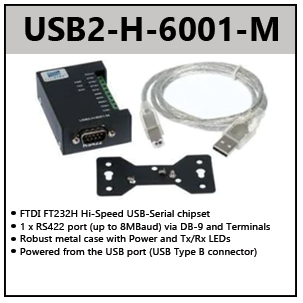 USB to RS422 adapters (HIGH SPEED)
Description
Note : USB2-H-6008-M <LOW STOCK>.
Our Hi-Speed USB to RS422 adapters make it quick and simple to connect one or more RS422 devices to a USB port on your computer. These adapters use Hi-Speed USB for reduced latency and higher baud rates on the serial side. Using the multi-port models, you can add up to 16 RS422 ports using only one USB port on the computer.
RS422 is popular for a wide range of control and monitoring and industrial applications. However, most computers don't have built-in RS422 ports or even slots on the back to add RS422 cards. Connecting via USB offers compatibility across a huge range of computers as well as easier setup.
With a variety of port numbers and enclosure styles and easy to install drivers for a range of operating systems, these adapters are ideal for adding one or more RS422 ports to your computer.
Based on the renowned FTDI FT232H/FT2232H/FT4232H Hi-Speed USB-Serial chipsets and drivers
Microsoft Windows® WHQL-certified, macOS, Linux and Windows CE device drivers
Each RS422 port can appear as a Virtual Com Port allowing easy use with existing application programs
Multi-port units create a separate COM port for each RS422 port with separate settings (such as baud rate and flow control) per port
Ports can also be accessed using the FTDI D2xx DLL functions
Compact and robust design in a variety of metal and plastic enclosure styles
RS422 via DB-9 Male connector (and terminal block on 1- and 2-port metal models)
DB-9 RS422 signals: TxD+, TxD-, RxD+, RxD-, RTS+, RTS-, CTS+, CTS-, GND
Automatic Hardware (RTS / CTS) and software (X-on/X-off) flow control
Transmit and Receive LED indicators help to confirm operation and assist in troubleshooting
Available in 1, 2, 4, 8 and 16 port versions
1, 2 and 4-port models powered from the USB port (no external power needed)
Optional 5V power out

Via terminal block (on 1 and 2-port metal models)
Switchable onto CTS- line of DB-9 (on 4, 8 and 16-port metal models)

USB 2.0 Hi-Speed (compatible with all USB ports including USB3)
Supplied with a USB A-B cable (metal models) or USB A-Mini B (plastic models)
Wall mount brackets included (1, 2, 4, 8 and 16 port versions)
-40°C to +85°C extended operating temperature range
CE / FCC approved
Feel free to browse through the corresponding datasheet for more information.
Document
Part Number
Document Type
Version
File
USB2-H-6001-M
USB2-H-6002-M
USB2-H-6004-M
USB2-H-6008-M
USB2-H-6016-M 
Datasheet
1.1
Download

USB2-H-6002 (EOL)

Datasheet
1.3
Download

USB2-H-6002 (EOL)

Quick Start Guide 

1.1
Download

USB2-H-6004

Datasheet 
1.3
Download

USB2-H-6004

Quick Start Guide 

1.1
Download

All Products

Drivers Installation Guide 

1.0
Download
Downloads
Order Information
| | | | |
| --- | --- | --- | --- |
| SKU  | Ports | Housing | Connector |
| USB2-H-6001-M | 1 | Metal | USB-B  |
| USB2-H-6002 (EOL) | 2 | ABS | USB-mini B |
| USB2-H-6002-M | 2 | Metal | USB-B  |
| USB2-H-6004 | 4 | ABS | USB-mini B |
| USB2-H-6004-M | 4 | Metal | USB-B  |
| USB2-H-6008-M | 8 | Metal | USB-B  |
| USB2-H-6016-M | 16 | Metal | USB-B  |